Forest Rest House,Gangotri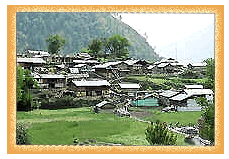 Forest Rest House in Gangotri. Apart from numerous hotels, ashrams, guest houses, dharamshala and private hotels, Gangotri also has a forest rest house for the pilgrims and travelers where you can find your accommodation at a quite cheap and affordable price that suits the budget and pocket of every class of travelers. The forest rest house is run by the government and thus well maintained yet is quite affordable.
If you are trekking along the Chhitkul to Gangotri route then you also might find accommodation in the forest rest house. The night stay at the forest rest house amidst nature gives a beautiful experience that will leave an everlasting impression in your mind. The forest rest house at Gangotri ensures convenient accommodation to all the travelers who are looking for low price accommodation in Gangotri. However remember to book the rest house well in advance if you are visiting during the Yatra time or the pilgrimage time i.e. during June. Also remember that non vegetarian food and alcoholic drinks are prohibited in all over the holy place of Gangotri and so it is also inhibited in the Forest Rest House. If you are about to trek in the Garwal route you may also stay overnight at the Forest Rest House in Gangotri.