Rishikesh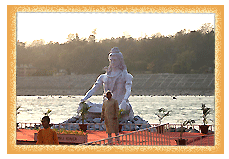 Surrounded by Shivalik hills of the Himalayas on three sides, Rishikesh, the place of sages is the spiritual town on the bank of river Ganga. It is said that when Rishi Raibhya did hard penances, God appeared by the name of Hrishikesh &L henceforth the area came to be known as Rishikesh, The legend of Uttaranchal begin here. In the ancient times it is believed to be the meditating centre of sages &L ascetics.
Rishikesh is the base for Char Dham Yatra and gateway to Garhwal Himalayas, Sikh Shrine of Hernkund Sahib and Valley of Flowers. The holy Ganga flows through the town and has many Ashrams (hermitages) along its banks pulsating the city life with Spiritualism. These Ashrams are seats of spiritual learning, meditation & yoga.
Rishikesh Travel :
The spiritual institutions, like Sivananda Ashram (head quarter of Divine Life Society), Swargashram, Gira mandir, Parmarth Niketan, Bhaganashram, Kailash Ashram, Mahesh Yogi ashram are located here. Most of the Ashrams have arrangements for fooding & lodging-very reasonably priced. The Ganga has two suspension bridges - Lakshman Jhoola on the way to Badrinath &. Ram Jhoola between Sivananda Ashrarn &c Swargashram. NE along the Ganga river is somewhat secluded sandy area Muni-ki- Reti (sand of the sages) is the area along the Chandrabhaga river having some temples.
40km from the town of Dehradun, this gorge centered town has acquired significance for being the centre for White River Rafting, Trekking & Mountaineering. For the adventurous lot it is the starting point of many expeditions towards Himalayan peaks and for Skiing at Auli. lt has recently developed to be an important centre for treatment using the ancient methods of treatment nature & Ayurved for difficult to treat ailments & stress induced problems.
The International Yoga Week held here every year on the bank of river Ganga attracts participation from all across the globe. The main commercial & administrative hub is to the South of the river, called Haridwar road, Lakshman Jhula road is the northern extension of Haridwar road and most of the ashrams & temples are to be found on either side of the river here.
How to Get There
The nearest airhead is the airport Jolly Grant at Dehradun. See Dehradun section for details.
Rail :
Even though there is a branch line between Haridwar & Rishikesh and a shuttle train service operating but the faster & swift
mode of transport to Rishikesh is by road from Haridwar (22km) or Dehradun (42km). Bookings can be made at the railway station.


Road :
Rishikesh is connected by road via Haridwar &: Dehradun to various parts of the country. There is a very regular bus service to Haridwar & Dehradun, starting very early in morning to late evening hours. There is hourly bus connection for Delhi (238 km) and the trip takes about 6 hours. Share Jeep,Trekkers from Dehradun is another option to Rishikesh and from the main bus stand one is able to get a share taxi to Haridwar. A govt. undertaking Badrinath-Kedarnath temple committee also provides transport services - 430261. Garhwal Motor Owners Union (GMOU) & Tehri Garhwal Motor Owners Union (TGMOU) besides other private operators run regular bus services to different parts of Garhwal hills.
These services originate from yatra bus stand on the Dehradun Road, one km from the Main bus stand. From the yatra bus stand during the pilgrimage season, buses leave regularly for Badrinath, Kedarnath & to the last road heads for Gangotri & Yamnotri.
Taxies are available for Delhi, Uttarkashi, Tehri & Ranikhet. Prices are geneally fixed by the authorities. One should however ready to pay around 30% more during the season. The Char Dham Yatra rates are also fixed. ome important distances are Delhi (238km), Chandigarh (252km), Mussoorie (77 km), Badrinath (301 km), Gangotri (258km), Kedarnath (228 km), Uttarkashi (154 km), Yamunotri(288 km), Nainital (260 km), Shimla (262 km), Agra (398 km)
Local Transport :
Local Vikram Tempos are available every where on the fixed route for fixed rate from Ghat Road Junction upto Lakshman & Ram Jhoola. Auto-rickshaws are also there but rates are to be negotiated. Unmetered Taxi service can be hired at the Haridwar road bus stand - 430413, rates negotiable or from transport wing of GMVN - 430372. Cycle rickshaws & Tongas also freely available. Ferry service can also be availed of near Ram Jhula for river crossing.