Muni-ki-reti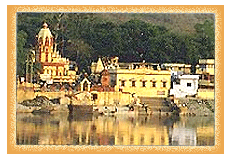 Muni-ki-reti, situated on the banks of the Ganga river and surrounded on three sides by the Himalayan ranges. Known formmedieval ages as the celestial abode, it is a great pilgrimage center of North India. The Yoga centers of Muni-ki-reti have enhanced the significance of the place.
Season :
Round the year.
Accessibility :
Rail :
Nearest Railhead, Rishikesh, 3 kms.


Road :
It is easily approachable by road from all major towns of U.P.