Hemkund Sahib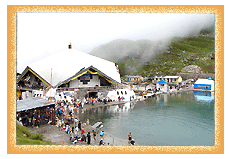 The lake near the Valley of Flowers at the height of 4329 m discovered by Sikh Havildar Sohan Singh in 1930, was identified with the one referred to by Guru Govind Singh - the tenth Guru of the sikh faith. Lying in heavenly environs, the place is revered both by Hindus and Sikhs, as well as for people from other faiths it is an important pilgrimage. Encircled by seven snow clad peaks and their associated glaciers, it reflects it surroundings enchantingly on its crystal clear serene waters. The glaciers from Hathi Parvat & Sapt Rishi Peaks feed the lake and small stream called Himganga flows out to this lake.
It is believed that Lakshman, the younger brother of Ram, meditated by the lake and regained his health after being severely wounded by Meghnath, son of the demon Ravana, during battle. There is a Sikh Gurudwara and a Lakshman temple built on the bank of the lake.
The motorhead for Hernkund Sahib is Govind Ghat located 20 km from Joshimath & 270km from Rishikesh. The trek upto Ghangaria is the same as for the Valley of Flowers. The trek from here to Hernkund Sahib is about 20 km and is steep climb. Porters & ponies are available at Govindghat for this Private taxies & other light vehicles also ply between Rishikesh (nearest railhead) & Govind Ghat and back.
The waters of Lakshman Ganga (Hem Ganga) coming from Hernkund, in many moods is a source of constant delight to the trekker. The best time to visit is mid July to mid August.
Ghangaria is approachable on foot from Govind Ghat which is connected by road with Rishikesh, Koldwar, Dehradun, Haridwar, Nainital, Ranikhet & other important hill centres of Uttaranchal.
Excursions routes from Hernkund Sahib can be to Valley of Flowers, Kedarnath, Badrinath, Chamoli, Joshimath, Nandprayag, Karnaprayag, Rudraprayag, Srinagar, Deoprayag & Auli.