Haridwar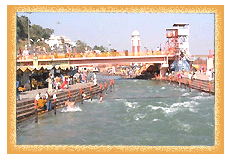 There is no dearth of pilgrimage destinations in our country, and yet Haridwar is one place that holds a special place in almost everybody's heart and mind. Nestled in the foothills of Himalayas, this is the centre where the holy river Ganges reaches plains. Associated with both Lord Shiva and lord Vishnu, Haridwar is one of the 7 sacred cities of India.
The holy city of Haridwar is home to some of the most sacred Hindu Rituals, Devotees from all over the world flock the place to perform various prayers. Haridwar is one of the gateways to four pilgrimages in Uttrakhand region, as the God's are believed to have left their footprints in this place. The waters of the holy river Ganges slow down their pace in Haridwar and people from round the globe come to take a dip in its holy water, to purify their minds and sols and achieve Nirvana, as it is commonly understood. You can also clean your soul at this sacred destination on Tour Packages for Haridwar.
The main Ghat at Haridwar is known as Har-ki-Pauri which witness's maximum number of devotes taking bath on it. The Mans Devi, Chandi Devi, Gangadwara Temple and Sapt Rishi are other must see places of Haridwar. Apart from its religious sanctity, Haridwar is also famous as one of the four venues where the 'Kumbh ka Mela' is held every 12 years.
In addition to promising salvation to its devotees, Haridwar is also a hub for herbal medicines and traditional studies at Gurukul Kangri. It is also home to the country's prestigious PSU, BHEL (Bharat Heavy Electricals India Limited). Places like Dehradun, Mussoorie, Rishikesh and Chila are wondrous tourist destinations and within easy reach of Haridwar.