Doonagiri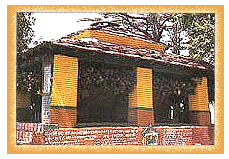 Doonagiri is a place of religious importance. It is famous for its temples of Durga from where one can have a good view of Gogas valleys.
General Information :


Height : 7000ft
Season : Round the year
Rainfall : 60 inches
Summer : Cottons/ light woollens, Winter - Heavy woollens
Language : Hindi & Kumaoni


Excursions From Doonagiri :

Pandukholi :
It is 10kms. from Doonagiri. From Manglikhan to Kukuchhina you can come by bus. The remaining distance is a 5km. walk. Here caves built by the Pandavas are worth watching.
Bhatkot Ka Pahaar :
This mountain is the highest in Kumaon region. It can be easily seen from Doonagiri.