Deoprayag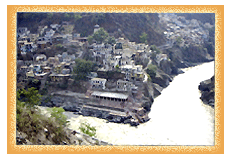 Deoprayag is regarded as the most complete showcase of legends, heritage & traditions. 70 km from Rishikesh , here the Bhagirathi from Gaumukh & the Alaknanda from Satopanth unite and for most Indians, this confluence is no less holy than the Sangam at Allahabad. These three rivers flowing majestically through sculptured channels carved through the rocks have carved angular blocks of land around the confluence & the town is set into these three angles.

Located at a height of only 618 m, Deoprayag is an invocation to the gods who have generously endowed this spot with tremendous natural beauty.

It is believed that Lord Rama and his father King Dashratha did penance here. The temple of Raghunathji houses a tall image of Lord Rama made of black granite. The most celebrated event at Deoprayag is the congregation of devotees, who come here to worship at Raghunath temple.
There is also a small temple popular as Bharat Mandir of Rishikesh in recluse. It is said that on fearing attack by Aurangzeb the pujaris from Rishikesh installed the same idol at Deoprayag as makeshift arrangement & later took it back to Rishikesh.
Srinagar the ancient capital of Tehri Garhwal is at a distance of 35 km from here.