Bhimtal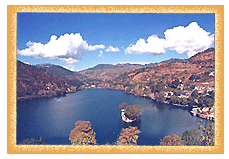 Bhimtal, situated at a distance of 22kms from Nainital. Bhimtal is named after one of the Pandav brothers called Bhim. The largest lake in the district of Nainital, Bhim Tal is 1701 metres by 265 metres, 265 metres longer than Naini Lake. The lake known for its magnificent majesty is situated at an altitude of 1371.6 metres above sea level.
Bhim Tal has an island, to the north-east side, which is an exquisite gem in the middle of the lake. It is situated within the range of temple bells, which have been chiming for the last 300 years in the 17th century edifice, beneath the shadow of the towering mountain rushing precipitously down to the emerald green lake. The island is only 91.4 metres from the shore.
Location
22 kms From Nainital (Uttar Pradesh).
Altitude
1371.6 Metres Above Sea Level.