Almora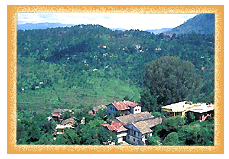 Almora, 66km from Nainital, at an altitude of 1650m, was the headquarter of the Chand dynasty. Invaded by Gurkhas in 1798, it was taken over by the British after the Gurkha war of 1814-15. Today it is an important commercial town and administrative centre. The town is an amalgamation of social & cultural influences of Kumaon. Traces of the old Chand Forts, beautifully carved wooden homes decorated with traditional murals reflect its rich heritage.
Almora perched on a 3 km long saddle shaped ridge, is called Kashaya Parvat and is situated in the middle of the Kosi & Suyal rivers. The district is adorned with garden orchards and numerous places of sanctity. One can get a panoramic view of the Himalayas from a number of places in the district. Quaint hill resorts such as Chaukori, Ranikhet, Sitlakhet, Binsar, Kausani & Bageshwar are all around Almora. Almora also offers those seeking adventure, trekking to Jageshwar (34 km) & Binsar (30m).
Almora can be reached from Delhi via Kathgodam (90 km) and also Ramnagar (143 km)
Getting There :
Air :
127km from Almora, Pantnagar is the nearest airport. At present flights are however not operational.


Rail :
Kathgodam (90km) is the nearest railhead with connection to Delhi, Howrah & Lucknow.
Road :
Buses connect Almora with Kathgodam, Nainital (66km), Ranikhet, Pithoragarh(122km) & Delhi (380km) directly. There is also direct connection to Nepal Border, Banbassa (7 hours). Buses depart at a regular interval, every half of an hour for Kathgodam (3 hours). It takes about 2 hours to travel to Nainital & 4 hours to Pithoragarh. Infact road transportation is the most convenient way to travel to Airnora. rivate taxis & jeeps are also available from Kathgodam & other places. The rate for share taxi is around Rs. 60 per person from Kathgodam.
Local Transport :
Taxis & Jeeps are available for hire. The main road in Almora town allows only one way traffic. Taxis normally charge for full day sight-seeing nearly Rs. 600 Rates can be negotiated for sight-seeing and half day excursion.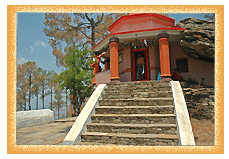 Kasar Devi :
On the Kairnatiya Hill 6 km outside the town is believed to be the place of enlightenment of Swami Vivekanand in a small cave. From here one can see vast ranges of Himalaya Bright & Corner (2km) is one of the best spots to view the magnificent sunrise & sunset over the Himalayas range. Udyochandeshwar temple originally a Shiva temple is now the sanctuary of the presiding deity ofKumaon Nanda Devi. Deer Park (3km) set amongst idyllic settings is an ideal picnic spot. Chitai Temple (6km) has the great faith of the Kurnaonis and the presiding deity is virtually laden with bells. The Museum near the bus stand contains archaeological pieces of significance dating back to 11th century Chand & Katyuri era.